Heart healthy cooking is a great way to take care of your cardiovascular health while still enjoying delicious meals. Heart healthy recipes involve using cooking techniques and ingredients that promote heart health. By making simple changes, you can improve your heart health and reduce your risk of heart disease.
Our catering partner, Glendale Dining Services, believes in create fresh flavorful food that provides personalized nutrition for healthy living.
Here are some tips for heart healthy cooking from the Glendale chefs:
Choose lean proteins such as fish, chicken, and turkey.
Use healthy fats such as olive oil, avocado oil, and nuts.
Incorporate whole grains such as brown rice, quinoa, and whole wheat bread.
Increase your intake of fruits and vegetables, which are packed with heart-healthy nutrients.
Limit your intake of salt and processed foods.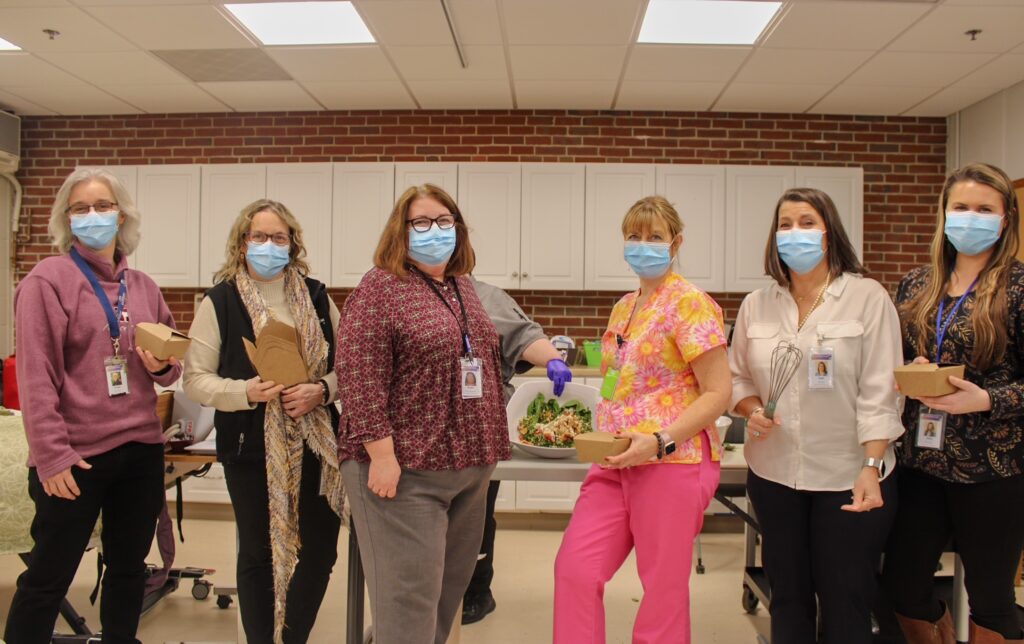 Heart Healthy Recipe: Mediterranean Tabbouleh Chicken Salad – Serves 20
Ingredients:
1.5 cups fine bulgur wheat or quinoa (for gluten free)
12 firm Roma tomatoes, chopped very fine
3 English Cucumbers very finely chopped
6 bunches parsley, stems removed, washed dries and chopped finely
Mint leaves, stems removed, washed and chopped finely
12 green onions very finely chopped
Salt to taste
Minced garlic
9-12 tablespoons lemon juice (lime juice, if preferred)
9-12 tablespoons extra virgin olive oil
Romaine lettuce
Optional:
Grilled chicken
Feta cheese
Directions:
Prepare the bulgur wheat or quinoa according to the package instructions
Finely chop the tomatoes, cucumbers, and herbs. Combine with the bulgur wheat or quinoa in a large bowl. Add salt and pepper to the tabbouleh to taste
Combine fresh lemon juice, olive oil, and garlic. Mix with the tabbouleh to your preference.
Lay a bed of chopped romaine lettuce at the bottom of a bowl. Top with the tabbouleh salad.
Add fresh grilled chicken or feta cheese if desired
Tips:
You can prepare the ingredients in advance, but don't combine them until you're ready to serve!
You can substitute a different heart healthy protein such as salmon or shrimp in this heart healthy recipe.
We hope you enjoy this delicious and easy-to-make recipe!
Dining at Rockingham County
Three home cooked meals and healthy snacks are included at all care levels. When residents arrive, their diets, likes, and dislikes, and any restrictions are discussed with our dietary team. Each neighborhood has cozy dining rooms where residents can come together and enjoy each other's company while they dine.
About Glendale Dining Services
Glendale Dining Services provides comprehensive contract dining services for residential campuses that provide mission-critical services, such as senior living communities, residential care facilities and special schools. Glendale has been Rockingham County's catering partner since 2017.