Rockingham County Rehabilitation, Nursing Center and Assisted Living Community has purchased a cutting-edge resident engagement technology called the Tovertafel. The Tovertafel (Dutch for "magic table") is an interactive game system designed specifically for older adults living with dementia. Since 2015, the Tovertafel has been used in more than 4,000 care communities worldwide. This solution provides seniors opportunities for mental stimulation, social interaction and physical movement.
How does the Tovertafel work?
The Tovertafel projects interactive images onto flat surfaces such as a table. The system is preloaded with games between levels 1 through 5. This range allows anyone to use the Tovertafel, regardless of their cognitive ability. From attention grabbing games that require users to sweep away falling leaves to games that require teamwork like tending a virtual garden, there's a game for everyone on the Tovertafel.
What are the benefits of using the Tovertafel?
Dementia can make it difficult for individuals to communicate and connect with others. Seniors living with dementia may have trouble remembering people and events, following conversations or expressing themselves effectively. Dementia can also affect a person's ability to plan and execute physical tasks, as well as their balance and coordination. Additionally, individuals with dementia may experience fatigue and decreased motivation, making physical activity difficult to initiate and sustain. This is why it's important for healthcare professionals to develop safe and appropriate activity plans for seniors with dementia.
The Tovertafel targets physical, cognitive, social and sensory abilities. This inclusive playing experience challenges individuals at their own level, which creates a positive influence for all players. The system is proven to be effective at reducing restless behaviors, breaking through apathy and promoting social interaction. These games are designed to encourage seniors to communicate and interact with others such as staff and family members, fostering a sense of community and belonging.
How does Tovertafel develop their games for seniors living with dementia?
All Tovertafel games are developed in close collaboration with caregiving professionals and seniors living with dementia. This co-design process gives game designers the opportunity to hear first-hand input on game prototypes. It also helps provide insight on players' interests and experiences.
Additionally, Tovertafel values scientific research. Their independent research partners conduct studies that examine the system's effects and explore new applications to better serve future players.
What are the best games to play with seniors living with dementia?
Playing games can help seniors living with dementia improve cognitive function. They also provide a source of enjoyment and entertainment for seniors living with dementia. Some of the best games to play include reminiscing games, puzzles, card games and interactive games like the Tovertafel. When selecting a game to play with someone living with dementia it's important to choose an activity that's easy to understand and doesn't require too much physical or mental strain. Additionally, personalized games that incorporate memories and experiences can be particularly effective for seniors with dementia.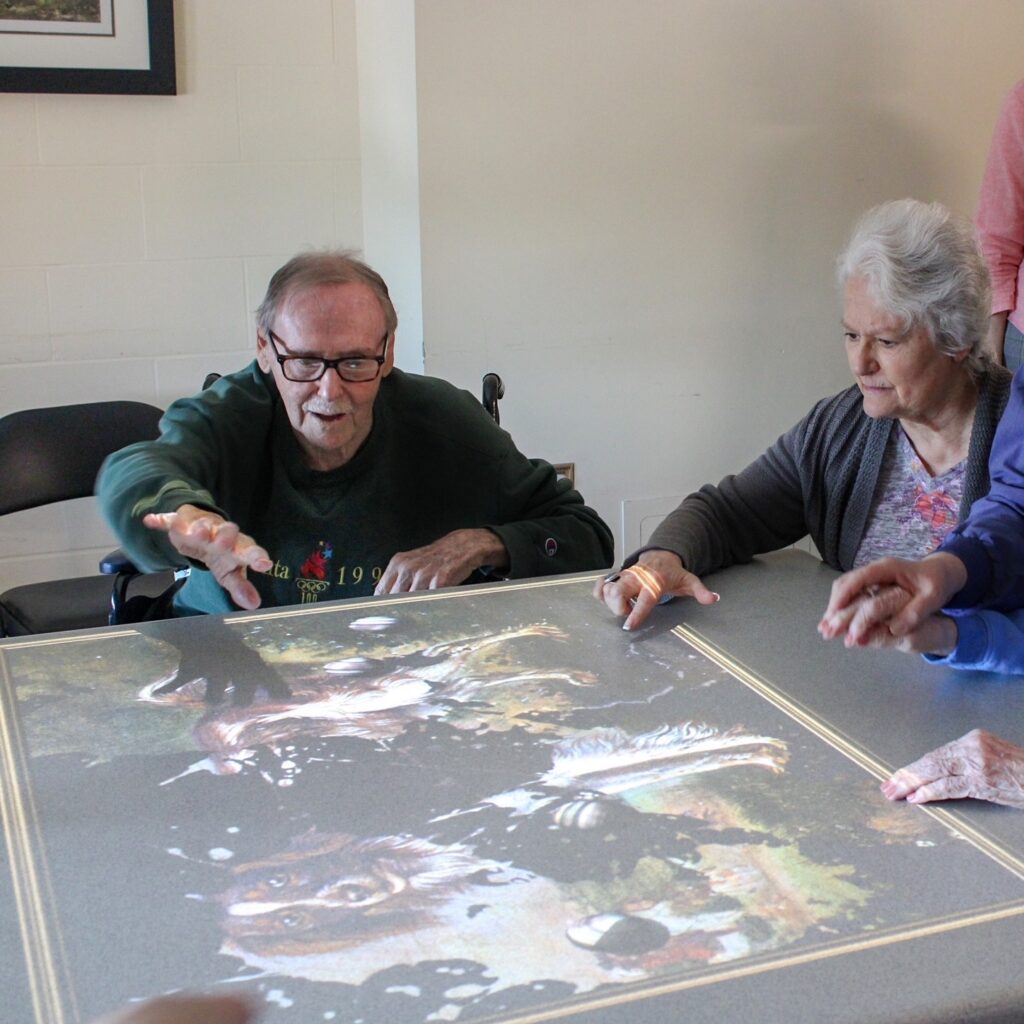 The Tovertafel at Rockingham County
Rockingham County is committed to supporting the wellbeing of residents living with dementia. The Tovertafel system is just one of the various services available to senior living residents.
"A person-centered approach that takes into account each residents' unique needs and preferences is crucial in supporting the wellbeing of seniors living with dementia," said Senior Director of Long-Term Care Services, Jason Smith. "This platform will help us ensure residents living with dementia continue living a life filled with joy and social interaction."