Spring cleaning is an annual tradition that many people partake in to freshen up their homes after a long winter. For seniors, this can be a great opportunity to declutter and organize their living spaces, which can lead to a safer and more comfortable home environment. In this guide, we will offer tips and advice for seniors and their loved ones who are looking to do some spring cleaning this year.
Spring cleaning benefits for seniors:
There are many reasons why performing a seasonal tidy-up can be beneficial for senior living residents. Some benefits include:
Keeping clear walking paths lead to fewer trip hazards and falls
Disinfecting surfaces and high touch areas reduces the risk of infections like norovirus and COVID-19
Removing clutter can reduce the chance of bedbugs
Cleaning can lift your mood and leave you feeling accomplished
Regularly tidying up can prevent hoarding tendencies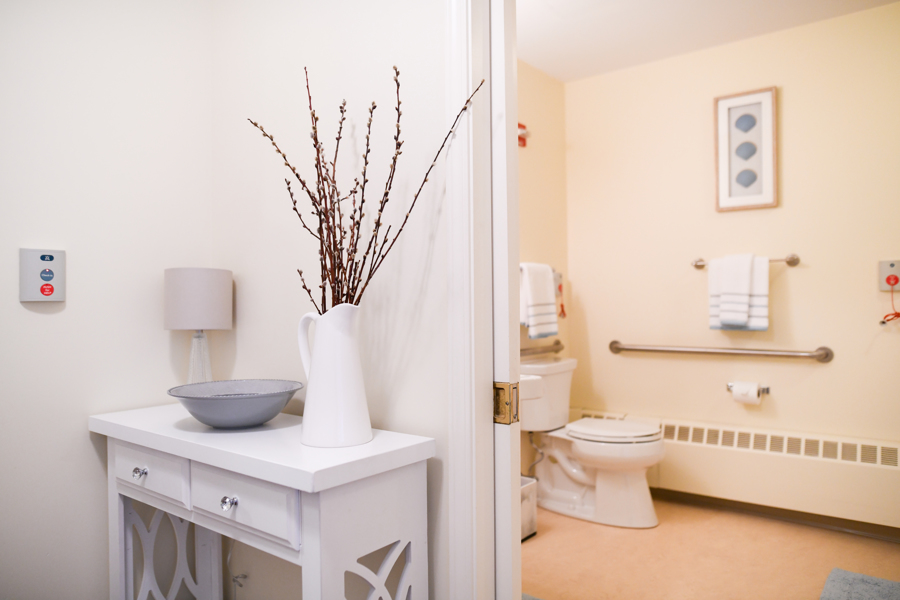 6 spring cleaning tips for seniors:
By following these spring cleaning tips, seniors can create a safer, cleaner, and more comfortable living space.
Start small
Declutter and organize
Put seasonal clothes in storage
Disinfect high touch items
Refresh the space
Ask for help
1. Start small
Create a list of tasks to be done and assign them to specific days or weeks. This can make the process less overwhelming. Begin by tackling one area at a time to help you stay focused. Encourage residents to participate in the cleaning process, even if it's just giving directions or supervising. It can be a great social activity and boost their sense of independence.
2. Declutter
The goal of decluttering is to create a more organized and peaceful living space. When decluttering, it's important to let go of items that no longer serve a purpose in your life. Go through belongings and decide what to keep, donate or throw away. Some examples of things to throw away during the decluttering process include expired medications, outdated paperwork including newspapers and magazines, duplicate items, and clothes that no longer fit.
3. Put seasonal clothes in storage
Make room in the closet and drawers by putting bulky items like winter coats in storage. You can use storage bins, shelves, and drawers to keep items organized and easily accessible.
4. Disinfect high touch items
You can improve indoor air quality by getting rid of dust and allergens that have accumulated over the winter month by cleaning areas and items that are frequently used, such as the TV remote, light switches, picture frames, and shelves. Housekeeping, laundry, and maintenance services are typically included in a community's rates. You can check the housekeeping schedule by connecting with the community's environmental services team.
5. Refresh the space
It's important to create a comfortable and inviting space that feels like home. You can brighten up the space by rearranging photographs, swapping out throw blankets and bedding, or introducing new flowers or houseplant.
6. Ask for help
You should never attempt to move heavy furniture by yourself or use equipment that could pose a risk. Ask the senior living staff to assist you with heavy lifting and difficult cleaning tasks.
Remember to take breaks and celebrate your progress along the way. With a little effort, you can enjoy a cleaner and more organized space, just in time for the warmer months ahead. Happy cleaning!
Convenience and comfort at Rockingham County Rehabilitation & Nursing Center
Our community's amenities are intended to make our residents' lives easier so they can enjoy life to the fullest. With our all-inclusive laundry and housekeeping services, we can help make the spring cleaning process for seniors more manageable and efficient.
Whether you or a loved one is being discharged from a hospital or considering downsizing from a current home, our team is here to help. From scheduling a tour to arranging your move-in, we ensure your transition is as stress-free as possible.
For more information, visit www.rockinghamcountyseniorliving.com